Now we know where the Urban Saloon is - I Just Need the Weight of Words
Feb. 26th, 2008
07:51 pm - Now we know where the Urban Saloon is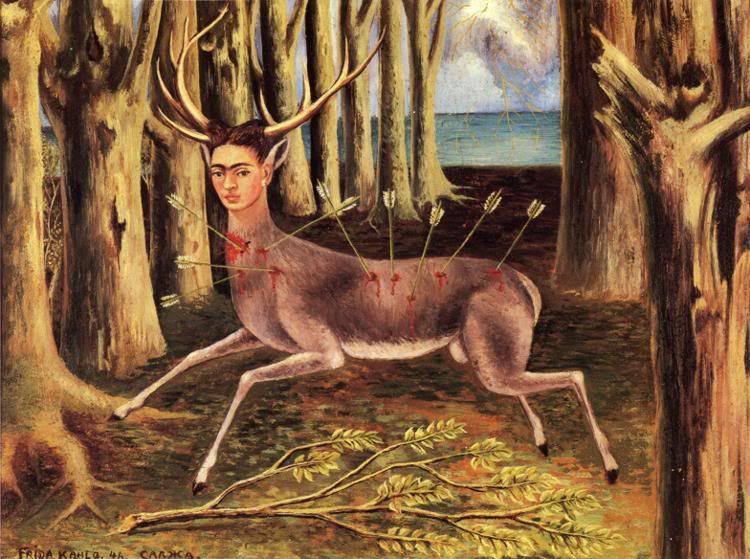 On Sunday,
museand I went to the Philadelphia Museum of Art for the first Sunday showing of the Frida Kahlo exhibit. Jewel is a big fan of Frida - our apartment has a little Frida shrine around our desk. Jewel just missed this show at the Phoenix art museum, and she was delighted that it followed her to her new town. We capped off a pretty nice week with a morning bus ride to the Museum District.

We fought against the crowds that were there for free admission on Sundays (although donations are always suggested) and climbed up my favorite part of the museum: the Rocky steps. (Jewel: "Was Rocky real?" Me: "No, but this is Philly, and we cling to whatever we can.") After rolling her eyes at both me for singing the Rocky theme up the stairs and the tourists for getting their pictures taken in front of the Sylvester Stallone-as-Rocky statue, we hopped on in. I hadn't been to the museum since I was 12, and I had forgotten what the place looked like on the inside. We paid our Frida fee (not free) and stood in a disorganized line to witness the magic.




The exhibit was crowded, even though they controlled traffic into it, but even the big crowd and the occasional screaming kid couldn't diminish the palpable feeling of genius and high art and suffering that circulated throughout. Jewel was instantly spellbound (more on this later). The exhibit skillfully integrated Frida's paintings, mostly in autobiographical order, with personal photographs of her, family and friends, and her husband Diego Rivera, another famous Mexican painter. The artifacts of Kahlo's life were needed to lend background to her paintings, which, especially toward the end of her career, are almost indecipherable unless you know exactly what's going on in her life.

The overarching myopia of Kahlo's work always rubbed me the wrong way. Making herself the topic and star of all of her works seemed indistinguishable to me from a selfish pro athlete - putting self above art. I always thought that artists should show universal themes in their work, injecting themselves only to the extent necessary to show or personalize those topics. (The fact that I often fail at this indicated, to me, that I had a lot of work to do in my art.) The showing changed my mind a bit on this. Through the various rooms, I got to see why a work previously thought egomaniacal, such as The Two Fridas (Why do I care about one Frida, much less two?), was actually a work of universal expression. We all have had the feeling of having two of us to show the world, or one to show and one to keep, and also having a feeling that no matter which of us we project to the world, it isn't good enough. By displaying herself, Kahlo expressed the only feelings that she knew for sure existed, making her art more real.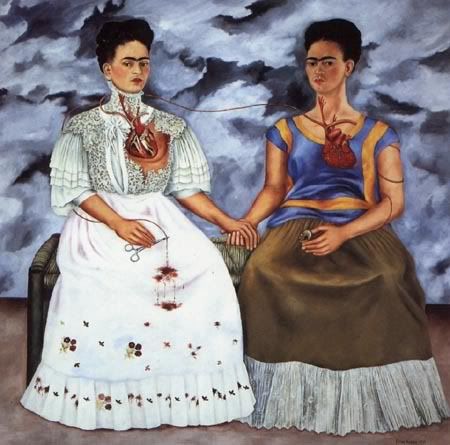 As with a lot of things that Jewel is more into than I am, I didn't know how to approach it. I kept a little bit of distance from her for most of the exhibit, letting her know with a glance or a hand or a little shoulder-rub that I was around, but it was her show. She appreciated the space, I think, and also grinned at the fact that we were so close, experiencing her favorite artist together. She cried a little bit when the audio tour explained the pain behind the cold, almost bored, malevolence of Self Portrait with Thorny Necklace. That dichotomy is what I was aiming for: We were close enough to see Frida together, she had enough space to express herself.

The exhibit ended in the gift shop (convenient!) and Jewel beelined for the jewelry counter, eyes falling on two hummingbird necklaces (one with thorns, one without). She continues to sigh, in the other room, even now, as she thinks about them. Someday, baby. Frida didn't even have them until she painted them on.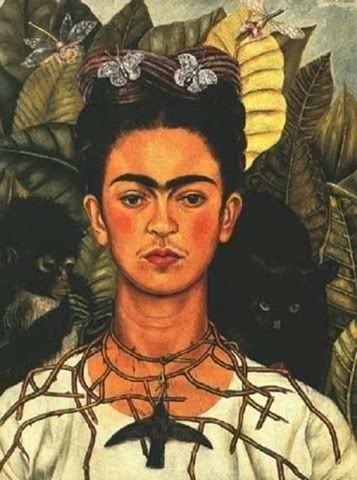 Current Mood:
impressed
Current Music: "Maggie's Farm", Rage Against the Machine; I shuffle the songs
Comments: